5 Things Buyers Wish They Knew About New Construction
Posted by Mark Ciochon on Tuesday, October 20, 2020 at 11:40 AM
By Mark Ciochon / October 20, 2020
Comment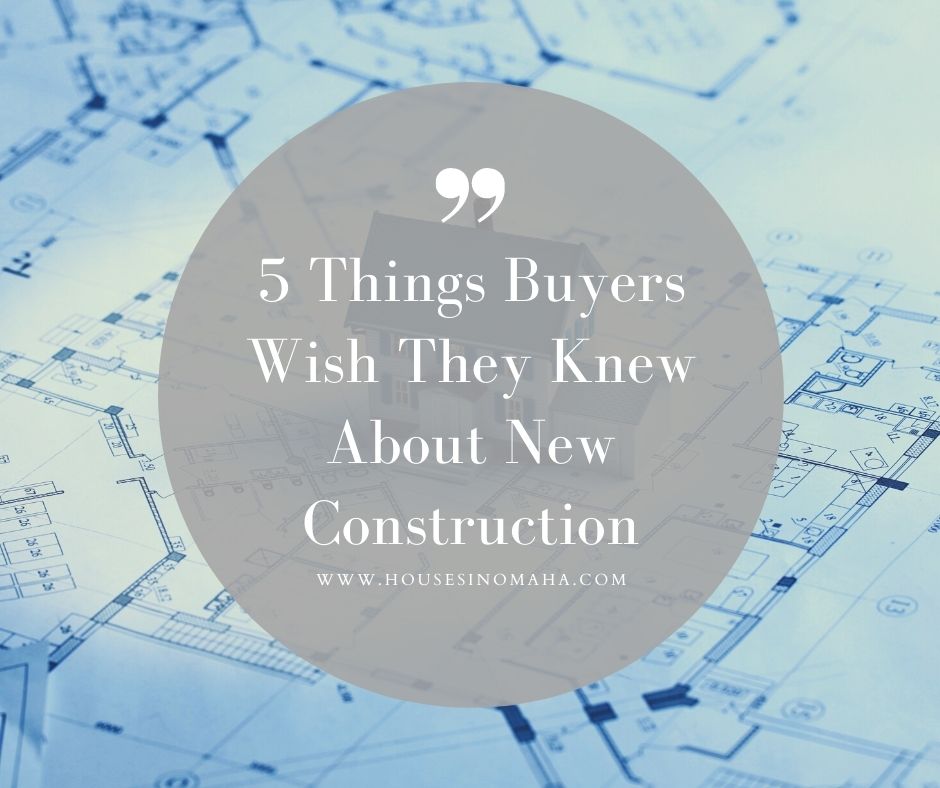 Buying new construction can be fun; I mean, you can customize the home as it's being built with your own colors, designs, finishes, and materials. However, it can get stressful as well. Things rarely go as planned and budgets can get blown on occasion. Before jumping into new construction, make sure you understand everything about the process and what you're likely to encounter. Here are five things buyers wish they knew before buying new construction.
#1. Don't settle.
There are a lot of decisions to be made when buying new construction. Most of these you've never even thought of before down to the crown molding, trim, carpet or floor padding, and details nobody will even see. It can get so overwhelming that you end up settling for items you later regret. Take the time to be picky now. Unsure about that color? Make sure you have several samples and don't be afraid to redo it if it's just not working out. Trust me, spending a little bit more time now will avoid any regret or remorse later on.
#2. Plan for the future.
A lot of people plan their new construction for what they think they need now rather than in the future. Think about at least five years from now; will you need an additional garage space? Will you need backyard sheds or storage facilities? Do you want to install irrigation for a full lawn or gas lines to different parts of the house? Now is the time to do all of these items when they can be built into the cost of the home and can actually save you money in the long run.
Related: How much are upgrades in new construction?
#3. Don't be afraid to ask questions.
You deal with a lot of different people when buying new construction including the developer, the builder, contract workers, decision-makers and agents, and you may not know who to ask when certain questions arise. Don't be bullied; ask questions and make sure you feel comfortable with the answers. Good contractors, builders, and agents will definitely direct you to the right answer even if they don't know it offhand. Don't be afraid to ask questions and feel confident about your purchase.
#4. Read the fine print.
Make sure you understand everything you are getting and this is why it is so crucial to have your own buyer representative when purchasing new construction. They will have your best interest at heart and will point out items that you may overlook. Ask about any guarantees and warranties that might come with appliances, materials, finishes, and what happens if something breaks or leaks as soon as you move in.
#5. Get and stay organized.
If you've got carpet samples on your coffee table, plans on your dresser, and swatches spread all over the house, not only will you not realize where you're at in the project but you'll naturally feel stressed and overwhelmed. Keep things organized and stay on track. You can use shared documents and Google docs or sheets to keep track of everything from approved additions to paint colors and flooring styles. If everything is written down and accessible to everyone on the project, no one can give the excuse that they didn't know or were told. Take pictures, write things down, and take notes on every conversation to be kept either in a binder or online in a shared folder. It might be a little bit more work to set up in the beginning but it will save a boatload of stress and headaches in the future.
We love helping folks find and purchase new construction throughout Omaha and surrounding towns, specifically with Woodland Homes. If you're looking to design your perfect home, start with one of these new construction communities in and around Omaha. We love to help you find the perfect home for your needs.
Additional Resources:
Reasons to use a buyer's agent when buying new construction
Can the Listing agent be the Buyer's Agent?
Contact a New Construction Expert