What New Construction Does and Doesn't Have
Posted by Mark Ciochon on Friday, June 5, 2020 at 7:33 AM
By Mark Ciochon / June 5, 2020
Comment
If you are comparing buying a brand-new home versus an existing home, you're probably doing the research to find out the pros and cons, advantages and disadvantages of either. We want to make your decision easy and that means understanding all of the ins and outs to buying new construction versus buying an existing resale home. Here are five things to know about new construction that may be different from buying an existing home.
#1. Limitations.
Unless you're building a custom home from the ground up that's not in a particular subdivision, you will have limitations on to the layout, size, and some upgrades. When you're buying an existing home, you can look around for any type of customizations you want or create those customizations after you've purchased the home. You may be limited on colors, layouts, and materials when buying a new home in a development. If you're buying an existing home, you can simply look around at the properties until you find the one that fits the search criteria you need. However, if you don't find anything you want in an existing home, the customizations that are available may be a welcome choice.
Additional: Tips on buying new construction
#2. Landscaping.
Most new construction homes will give you a little bit of landscaping in the front to start off with but they won't do anything in the backyard. This means that you'll probably have to fence the backyard if that's what you need, start from the ground up with growing trees and plants, and you may even need to lay turf or seed the lawn. An existing home may already have all of these things ready to go. An existing home will probably have mature landscaping, well-established plants, and potentially even a fenced backyard.
#3. Construction noise.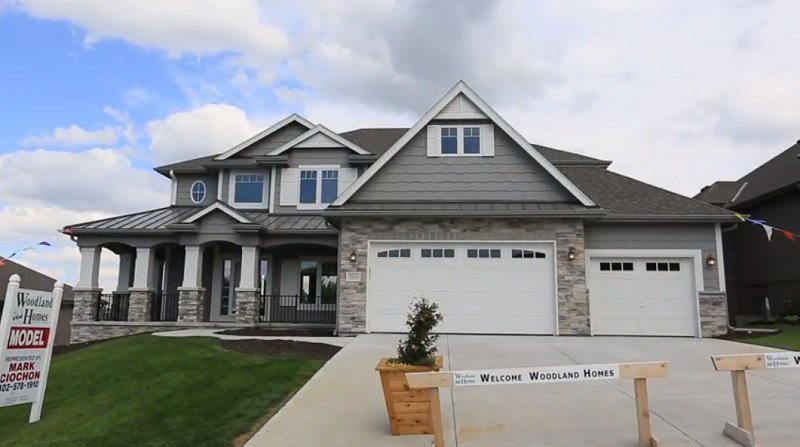 If you are the first one to buy in a new construction development you'll be hearing construction noise for several months or even years depending on how long it takes to build up the community. Buying a home in an existing neighborhood, one that is well-established means that you won't have to listen to construction noise unless, of course, a neighbor is adding on to their home.
#4. Homeowner association fees.
Existing homes that have been around for at least 50 years are unlikely to have homeowner association fees or dues or even an HOA at all. There are pros and cons to this. No association beings that every homeowner is free to do whatever they want to do legally such as paint their house a bright purple or keep three RVs in the front yard. A homeowner association is typically rather strict when it comes to continuity between the properties. Most new subdivisions and developments will have some sort of homeowner association dues that cover management and any common area maintenance. That being said, many of these new subdivisions will also have community amenities such as clubhouses, swimming pools, or playgrounds.HOA dues can range anywhere from less than $100 a year to several hundreds of dollars per month.
#5.New Home Bugs.
I'm not talking about actual pests here but the bugs that you're likely to get anytime you are the first owner of anything. With an established home, homeowners before you have worked out the kinks and created a well-oiled machine. Brand-new homes may have certain quarks and issues that builders either have forgotten about or failed to complete and you are the first person in the home so you're the one that's likely to find these quirks.
On the flipside, most of these items can be taken care of from the builder as soon as they are found as many offer warranties up to a year. With an existing home, it's only a matter of time before you have to start replacing major items such as HVAC systems, roofs, and appliances. With a new home, you won't have to replace these things nearly as soon.
There are pros and cons to new construction and existing homes and it really comes down to the lifestyle that you want an understanding of those advantages and disadvantages to both. We love the Woodland Homes throughout Omaha and surrounding areas and if you're looking for a new home, we urge you to check out all of the great new construction homes that are currently available.
Browse all the Woodland Home Subdivisions Below