Secrets for Getting a Shiny Clean Bathtub
Posted by Mark Ciochon on Tuesday, January 19, 2021 at 11:42 AM
By Mark Ciochon / January 19, 2021
Comment
The tub is a large surface in the bathroom that can quickly draw and detract the eye from other things if it is messy. This may be the reason it feels like a big and cumbersome task to get it shiny clean. It is also shaped in such a way that it seems to require a fair amount of strategic and almost back bending moves to reach every part. There are some things you can do to make cleaning the tub much easier and keep it shiny and beautiful longer.
Here are some tips for a shiny clean bathtub.
Know Your Tub
Before attempting any form of cleaning on your tub you should know what type of finish is on your tub. Most tub finishes are enamel, porcelain, acrylic, or fiberglass. If the finish of your tub has a sort of plastic look to it the finish is either acrylic, or fiberglass. If you have a tub made out of a more specialized material like stone or copper it is a good idea to check with the tub manufacturer for care.
Choosing a Cleaner
There are several tub/tile/bathroom cleaners on the shelves at the store, many of them claiming to give you that shiny clean finish you are after, but few actually coming through on delivering on that promise. There are also several homemade solutions you can find by thumbing through sites like Pinterest.
Using equal parts of baking soda and water to create a paste will work on all tub surfaces to help get rid of soap scum. Porcelain tubs do well with vinegar cleaners. If you want to use a store-bought cleaner make sure to read the label carefully first to be sure it will not damage the finish of your tub.
Cleaning Stains
Each type of tub finish will have different best practices for scrubbing unsightly stains from your tub finish.
Acrylic Tubs: Acrylic tubs are great for stain resistance. If there is a stain on your tub, use a mixture of ½ to 2/3 of cup of clear non-dyed hand dishwashing soap with 2 cups of hot water. If this does not help a paste made from cream of tartar and hydrogen peroxide or baking soda and water may work, just test it in a low visible area to make sure it will not scratch your tub.
More: How to Add Value to Your Home
Enamel: Enamel finishes are more delicate, using bleach will stain an enamel tub. For enamel tubs, you can use the same dish liquid cleanser as for acrylic tubs.
Porcelain: many people and commercial cleaners like to use bleach to knock out stains on a porcelain surface. Too much bleach can wear down the surface with time. Instead, start with a simple baking soda and water paste. Dish liquid can work well for soap scum on porcelain. If there is an issue due to hard water, use a mix of vinegar and water. If you have tried all of the above, a pumice stone could help or a magic eraser. Start with the least abrasive cleaner first and work your way up. In some cases, the finish on the tub may be worn and needing repair.
Related: A Bathtub Cleaning Trick That's Easy on the Knees
Tub Cleaning Technique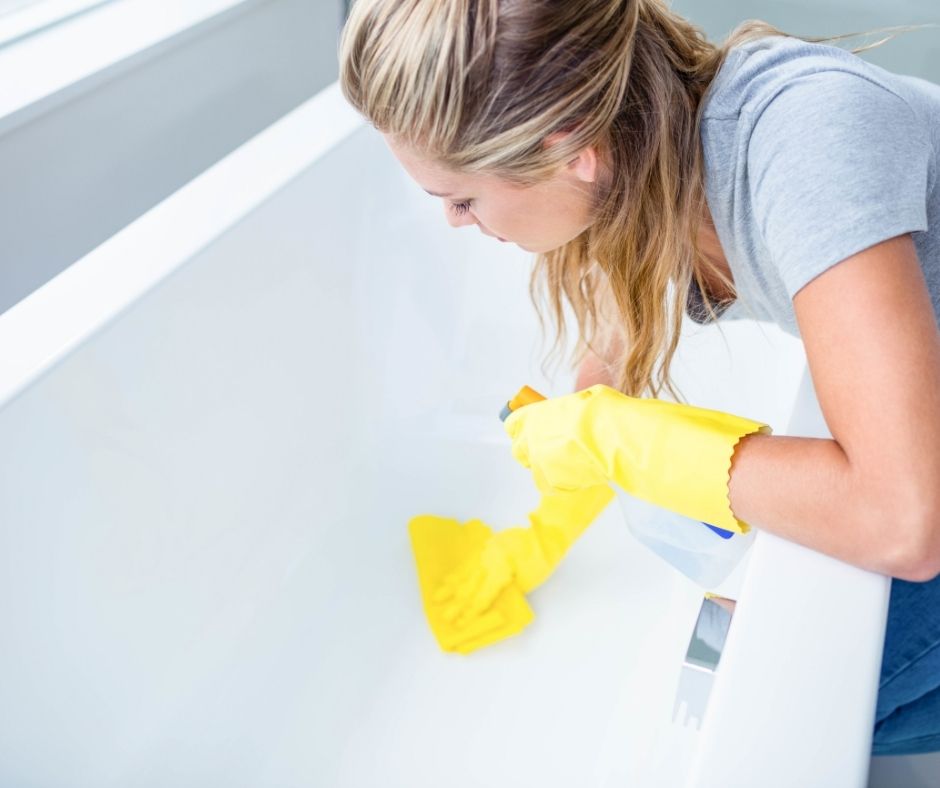 Once you have found the type of finish and have the right cleaner in hand, it is good to know some proper technique. Start by removing all of the bath products to give you an empty surface. First, treat any unsightly stains, then move on to your cleaner. Many of us instinctually begin with the cleaner, but it is best to address stains first. Spread your cleaner of choice in a circular motion if you have a paste or spraying the entire surface of the tub if you are using a spray. Start at the rim, then to the sides, working your way down to the bottom.
Now that the cleaner is in the tub, leave it there. Don't grab for your cleaning cloth and begin wiping right away. Give the cleaner time to do the work, this will save you so much elbow grease and effort. While this is happening you can take some time to clean other surfaces like the mirrors or go do something fun for about 30 minutes. Once that time is up come back with a microfiber cleaning cloth or long handle brush made specifically for tubs. Try not to use a hard scrubber as it can scratch the tub.
More: Does your home need a home office before listing?
Finish up by rinsing the tub very well with either the showerhead or a bucket of clean water. It is very important not to skip rinsing. When everything is rinsed follow up with a dry cloth to get that shiny clean you are after.
Preventive Measures
Now that the tub is clean and shiny there are some things you can do to make keeping it that way and cleaning it again much easier. Every time you take a shower or bath get into the habit of giving the area a quick wipe down and dry. This will drastically reduce soap scum and hard water problems. It is also a good idea to switch out that bar of soap for a bath gel as the talc in bar soap creates soap scum. If you really love your bar soap switch to a hard soap.
Are you trying to get your home up to snuff to sell? Let the Houses in Omaha Team help price and stage your home for a fast sale! We love this area and know it well. Our experts can offer a free listing consultation on what your home is currently worth. Fill out the form below to learn more. We are your Omaha real estate listing experts.