Mortgage Market Guide Mondays 9-19-22
Posted by Trina Ciochon on Monday, September 19, 2022 at 1:14 PM
By Trina Ciochon / September 19, 2022
Comment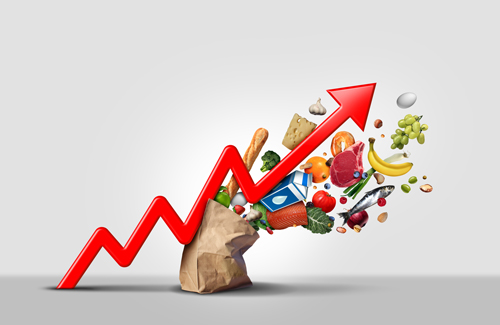 This past week, we saw some surprisingly hot inflation numbers which hurt the financial markets and pushed rates to the highest levels of 2022. Let's walk through what happened and look into the week ahead.
"There was one thing we weren't really thinking of and that's money" ... Money Changes Everything by Cyndi Lauper
Inflation Remains High
Last Tuesday the Consumer Price Index (CPI) was released, and it showed inflation remains high and a problem for consumers, the economy, and the Federal Reserve.
The headline CPI, which includes food and energy costs came in at a hot 8.3% year over year, higher than expectations of 8.1%. This number remains near a 40-year high despite getting some relief at the pump. The more closely watched Core CPI number, which removes food and energy, came in at 6.3%, a big month-over-month jump from 5.9% in July.
What caused Core CPI to jump so high? The housing component, which makes up 31% of CPI rose a lofty 0.7% for the month. This tells us that inflation will remain higher longer than we would like.
No Fed Pivot
Stocks were rallying into the CPI release, sensing and "pricing" in a softer inflation number. Upon seeing the higher reading, the Dow had its 7th worst daily loss in history. This is because the high CPI means the Fed will continue to hike rates to slow demand, which sharply elevates recession fears.
Further proof of the concern is seeing the 2-year yield spike to a 15-year high at 3.80%, which remains well above the 10-year yield of 3.44%. This wide yield curve inversion portends a recession.
The Good News
We all must remember that the Fed is raising rates to slow inflation, create unemployment, slow demand, and lower asset prices...all of these are good for long-term bonds and home loan rates. It is why we are seeing the 10-year yield rise as high as the 2-year.
There is a limit to how high long-term rates will go, and we could be nearing the limit.
The 10-year yield, while up slightly this week, remains below the 2022 peak seen in June. An important level to watch is 3.49%. If the 10-year yield moves above this important ceiling, rates will move up another level. If it can stay beneath this important marker, there is an opportunity to see that these will be the peaks for the year.
Bottom line: The Fed controls the overnight Fed Funds Rate and that rate is going higher next week. Longer dated Treasuries, like the 10-yr Note, control the Fed and right now we are seeing those long-term yields resist going higher because the global economy is sliding towards recession. It remains a great time to secure a home loan that is lower than the current rate of inflation.
Looking Ahead
There are some important housing readings, but the main event is the Fed meeting and Monetary Policy Decision due out on Wednesday at 2:00 p.m. ET. As always, expect multiple reactions – one when the interest decision is read, another when the Fed Chair does his press conference at 2:30 p.m. ET and another next Thursday after the markets sleep on the news.
Mortgage Market Guide Candlestick Chart
Mortgage-backed security (MBS) prices determine home loan rates. The chart below is a one-year view of the Fannie Mae 30-year 5% coupon, where currently closed loans are being packaged. As prices go higher, rates move lower and vice versa.
Prices are right at 2022 lows, which means home loan rates are at 2022 highs. Next week's Fed Meeting may likely determine the next directional move for rates.
Chart: Fannie Mae 30-Year 5.0% Coupon (Friday, September 16, 2022)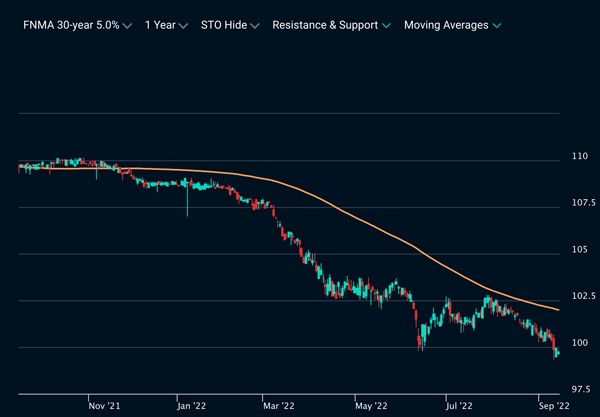 Economic Calendar for the Week of September 19 - 23