Mortgage Market Guide Monday- 12/26/2022
Posted by Trina Ciochon on Monday, December 26, 2022 at 8:42 AM
By Trina Ciochon / December 26, 2022
Comment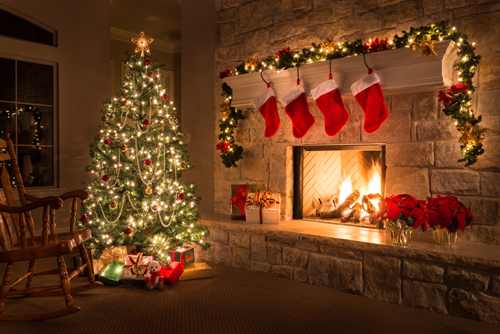 Home loan rates held steady near 3-month lows despite a negative surprise from the Bank of Japan. Let's discuss what happened and look into next week.
"I found out long ago (Oh-oh-oh-oh-oh) It's a long way down the Holiday Road" - Holiday Road by Lindsey Buckingham.
BOJ Surprise
Earlier this week, the Bank of Japan (BOJ) unexpectedly allowed its 10-yr government bond rates to rise. This sounds like a big deal on the surface, but let's break it down.
First, for many years, the BOJ has had a collar around their 10-yr bond, restricting it from going no more than .25% above or below 0.0%. On Tuesday, they announced they would widen the band and allow their 10-yr rate to float up to .50% above or beneath 0.0%. Yes, you read this right, the BOJ essentially went from having a .25% to having a rate as high as .50% which is a meager interest rate when you consider our 10-yr Note is yielding 3.65%.
To signal to the markets that the BOJ was not tightening monetary policy, they also announced that they will purchase more bonds (QE) to prevent yields from rising.
It's worth a reminder that here in the US our Federal Reserve is doing the opposite. They are no longer buying bonds and are allowing them to run off the balance sheet, hence the dramatic increase in rates this year.
Consumer Confidence Mixed
Consumer confidence bounced back in December, reversing consecutive declines in October and November to reach its highest level since April 2022. Why? Inflation expectations retreated in December to their lowest level since September 2021, with recent declines in gas prices a major impetus which is good for rates and less Fed hikes.
3.65%
The 10-year Note, which ebbs and flows with mortgage rates remained steady at 3-month lows, well off the 4.20% highs seen last month. Future inflation and labor market readings will determine if long-term rates continue to edge lower at the beginning of 2023.
Bottom line: Home loan rates have improved nicely from their peak in 2022 and inventory has increased in many parts of the country. Furthermore, sellers have become more realistic in pricing, and many are eager to make deals. This poses a wonderful opportunity for a would-be home buyer.
Looking Ahead
Next week there are literally no high-impact economic readings and no major Fed speeches. The week is also short with markets closed on Monday for Christmas and the bond market shutting down early next Friday for the New Year holiday.
Mortgage Market Guide Candlestick Chart
Mortgage-backed security (MBS) prices determine home loan rates. The chart below is a one-year view of the Fannie Mae 30-year 5.5% coupon, where currently closed loans are being packaged. As prices go higher, rates move lower, and vice versa.
You can see on the right side of the chart the Green Candles moving sideways to higher as we approach the close of 2022. This means sideways to lower rates over time and that is a good story to end the year.
Chart: Fannie Mae 30-Year 5.5% Coupon (Friday, December 23, 2022)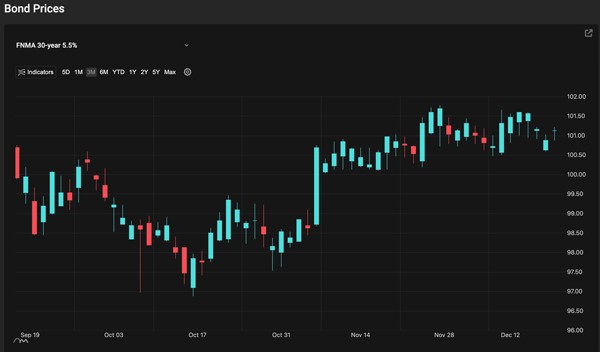 Economic Calendar for the Week of December 26 - 30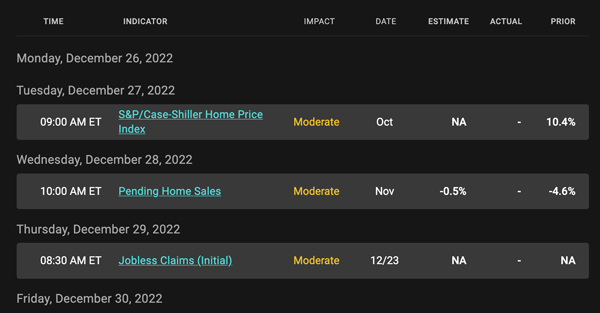 The material contained in this newsletter has been prepared by an independent third-party provider. The content is provided for use by real estate, financial services and other professionals only and is not intended for consumer distribution. The material provided is for informational and educational purposes only and should not be construed as investment and/or mortgage advice. Although the material is deemed to be accurate and reliable, there is no guarantee it is without errors.

As your mortgage professional, I am sending you the MMG WEEKLY because I am committed to keeping you updated on the economic events that impact interest rates and how they may affect you.