Mortgage Market Guide Monday
Posted by Trina Ciochon on Monday, November 14, 2022 at 9:51 AM
By Trina Ciochon / November 14, 2022
Comment
This week, interest rates moved a bit sideways after Election Day and only added to the uncertainty as ballots continue to be counted. Let's discuss what happened and look into the week ahead.
"Pull my shirt off and pray - we're coming up on re-election day" - Election Day by Arcadia (Duran Duran)
Consumed By Uncertainty
It has been nearly a year since the Federal Reserve flip-flopped on the idea that high inflation was "transitory" and the need for that word to be retired. Since that time, we have experienced unprecedented uncertainty in the financial markets, with home loan rates moving from 3% to 7%...the fastest rate of change in our history.
A lot of the uncertainty, and thus volatility, is surrounded by where inflation and the overall economy is and how far is the Fed going to go with rate hikes. With the election results still up in the air, we should expect to see more of the same continued uncertainty and volatility.
Balance of Power Rate Impact
Mixed control between Congress and the White House could benefit interest rates. How? It makes it more challenging to deliver large scale changes to tax policy or deficit spending to try and help the economy. On the spending, lower spending likely helps to lower inflation, which means lower rates.
The Terminal Rate
How high will the Fed raise rates? Currently the Fed Funds Rate, which is an overnight rate the Fed hikes and cuts, is in a range of 3.75 – 4.00%. This week, major financial institutions, with most forecasting the terminal rate, or the peak in the Fed Funds Rate to be 5.00%, coming by May 2023.
It is important to note, that while the Fed Funds Rate may increase by another 1.25% between now and next May, that doesn't mean long-term rates will go higher.
The only way long-term rates go higher is if the economy can absorb the increased rates. Mortgage bonds and Treasuries are essentially at the same levels they were back in late September, so long-term rates are starting to buck the idea of moving higher.
The Fed Step Down
After four consecutive .75% rate hikes, the markets are wondering and hoping the Fed will "step down" the size of rate hikes come December. Currently, there is a 57% chance of a .50% rate hike. A smaller rate hike would make sense as the Fed will have raised rates by 3.50% in the second half of the year and those hikes have yet to hit the economy.
Bottom Line: Home loan rates have improved from the highest levels of 2022. With more inventory coming to market and many sellers eager to make deals, now could be a great time to consider taking advantage of the opportunities in housing.
Looking Ahead
Next week brings some important readings like the Producer Price Index, which is a reading on wholesale inflation, Retail Sales, a reading on consumer spending and some housing data. As always, there will be plenty of Fed speak and central bank activity across the globe, which can move the markets.
Mortgage Market Guide Candlestick Chart
Mortgage-backed security (MBS) prices determine home loan rates. The chart below is a one-year view of the Fannie Mae 30-year 6% coupon, where currently closed loans are being packaged. As prices go higher, rates move lower and vice versa.
Prices have moved slightly higher in the last week. If prices can remain at or above current levels, we will have seen the rate peak of 2022. However, if the bond falls beneath those 2022 price lows, home loan rates will make new highs.
Chart: Fannie Mae 30-Year 6.0% Coupon (Friday, November 11, 2022)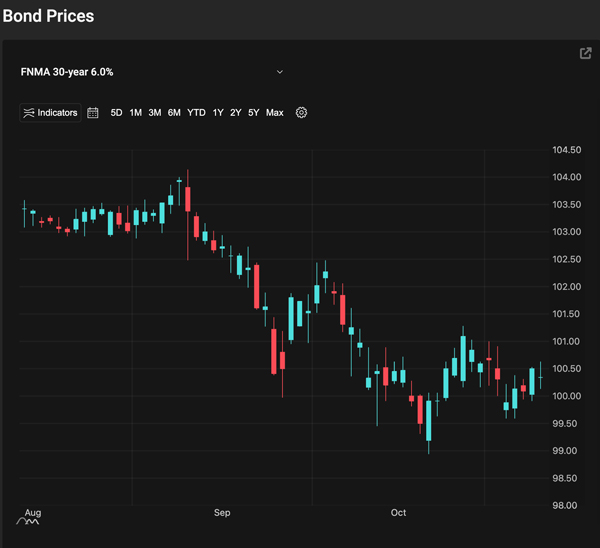 Economic Calendar for the Week of November 14 - 18
The material contained in this newsletter has been prepared by an independent third-party provider. The content is provided for use by real estate, financial services and other professionals only and is not intended for consumer distribution. The material provided is for informational and educational purposes only and should not be construed as investment and/or mortgage advice. Although the material is deemed to be accurate and reliable, there is no guarantee it is without errors.