Mortgage Market Guide Monday-8/22/2022
Posted by Trina Ciochon on Monday, August 22, 2022 at 7:46 AM
By Trina Ciochon / August 22, 2022
Comment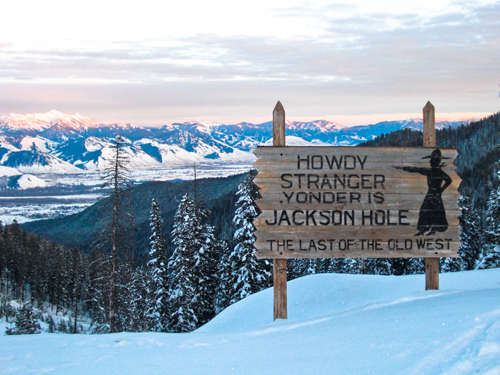 For the past couple of weeks, interest rates remained within a range and haven't moved higher or lower, seemingly waiting for the next big market event. That event could be next week as Central Bankers around the globe and our Fed Chair Jerome Powell are set to speak at the Jackson Hole Symposium in Wyoming.
"We're going to Jackson, I'm gonna mess around" -Jackson by Johnny Cash
Inflation Reduction Act Becomes Law
On Tuesday, President Biden signed the Inflation Reduction Act. The $750B plan has a host of new taxes and spending measures in hopes to lower prices for everyday Americans, while pushing forward with cleaner energy initiatives.
Bonds and interest rates do not like inflation as evidenced by the doubling of rates in the 1st half of 2022. So, any reduction in inflation would be a welcome development for those who invest in bonds or are looking to borrow money. Leading into the signing and the initial market response thereafter showed no meaningful response.
It will be sometime before we see the economic impact of this new law. With the 1st half of 2022 showing the US in a recession, hopes are for a resumption of economic growth, and inflation coming down over time.
New Home Construction Slumping
Housing Starts and Building Permits are slowing with the latter showing a surprisingly bad 9.6% decline month over month when the markets expected just a 2.0% decline. New home construction and sales make up a much smaller portion of the overall housing market, but the slowdown will have a negative impact on available housing inventory until the market finds balance. As the old saying goes...the cure for higher prices is higher prices. Home sale prices have declined offering potential home buyers a great opportunity, especially with rates having retreated since mid-June.
Oil Falling Beneath $90 a Barrel
Rising energy and daily essential costs have been the main culprit for high inflation and the economic slowdown in the first half of 2022. We are continuing to see signs of relief at the pump as oil has fallen from $124 a barrel to $87.
Oil prices decline in one of two ways:
1.) We create more supply
2.) Demand decreases through an economic slowdown
In China, they are struggling with both continued Covid lockdowns as well as a serious economic slowdown. This was a reason for the decline in oil this week. If oil continues to decline, it will go a long way to helping consumers regain their footing. With the savings rates declining, we need to bring consumers more relief on energy and daily essentials.
Bottom line: Home loan rate improvement has stalled of late as financial markets try to figure out whether inflation has peaked and how far the Fed will go with rate hikes. Until the next Fed Meeting, we should expect more uncertainty and volatility.
Looking Ahead
The Jackson Hole Symposium in Wyoming will take place from August 25 to 27. "The event brings together economists, financial market participants, academics, U.S. government representatives and news media to discuss long-term policy issues of mutual concern. Our Fed Chair, Jerome Powell, will be speaking and it could be a big market mover. It seems every year market moving comments are delivered and this year it should be no different.
Mortgage Market Guide Candlestick Chart
Mortgage-backed security (MBS) prices determine home loan rates. The chart below is a one-year view of the Fannie Mae 30-year 4.5% coupon, where currently closed loans are being packaged. As prices move higher, rates move lower and vice versa.
You can see on the right side of the chart; MBS prices are trying to climb above $101 and the 100-day Moving Average (Orange Line). If prices climb above these levels, rates will improve further, the opposite is true.
Chart: Fannie Mae 30-Year 4.5% Coupon (Friday, August 19, 2022)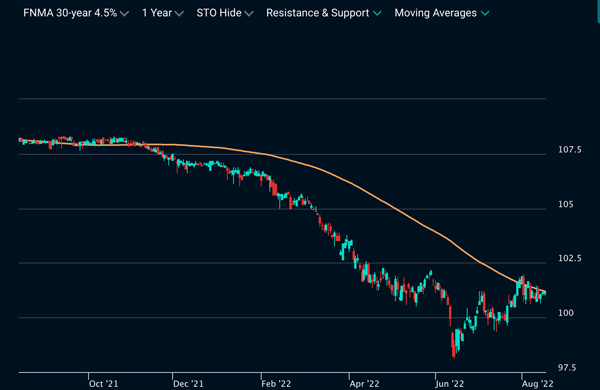 Economic Calendar for the Week of August 22 - 26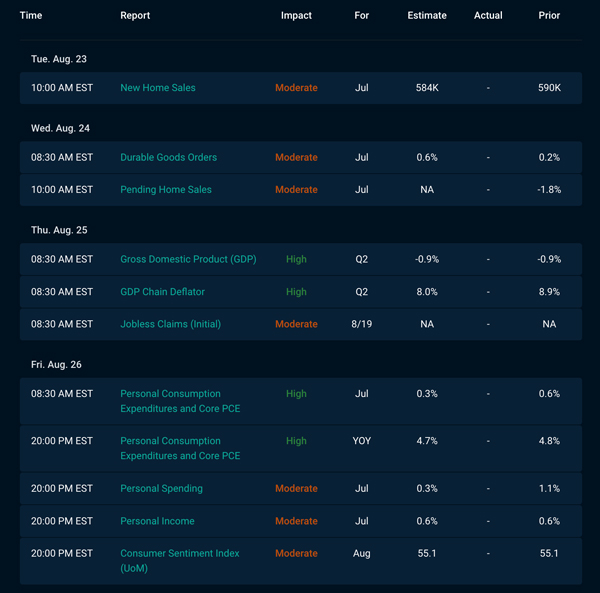 The material contained in this newsletter has been prepared by an independent third-party provider. The content is provided for use by real estate, financial services and other professionals only and is not intended for consumer distribution. The material provided is for informational and educational purposes only and should not be construed as investment and/or mortgage advice. Although the material is deemed to be accurate and reliable, there is no guarantee it is without errors.