How to Turn Your Space Bedroom into a Walk-In Closet
Posted by Mark Ciochon on Monday, February 8, 2021 at 2:13 PM
By Mark Ciochon / February 8, 2021
Comment
Do you ever find yourself looking at your master bedroom and wishing you could add more space to it? Do you have a spare bedroom nearby that you don't typically use for anything other than storage space? Great news! With some planning and work, you can turn that spare bedroom into an exquisite walk-in closet.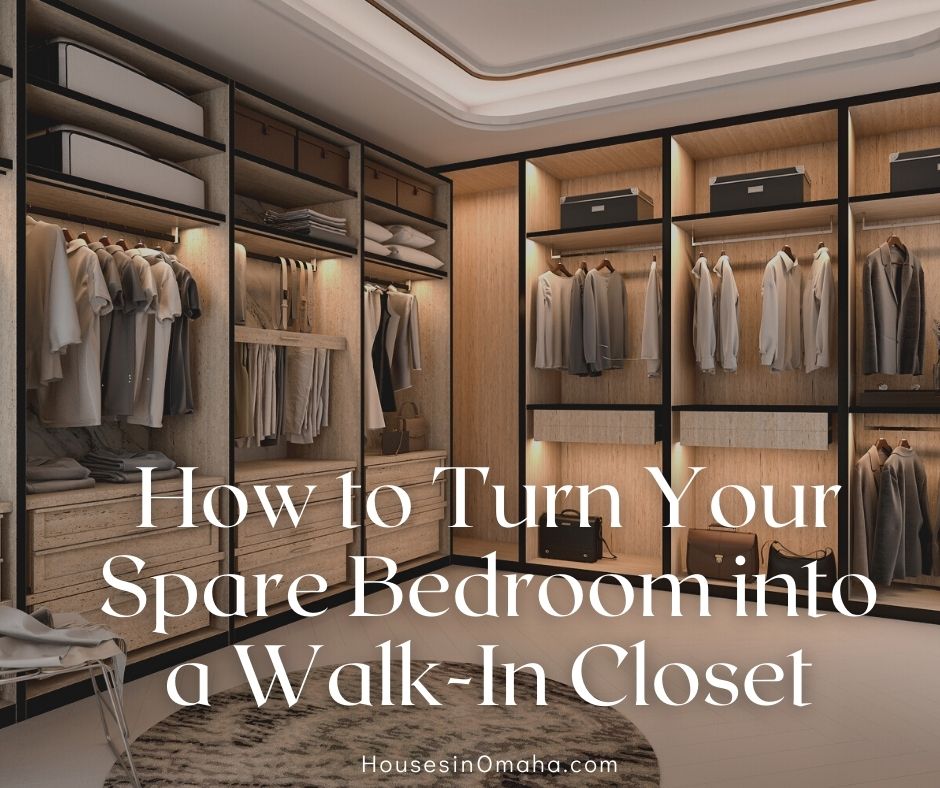 Where to begin? Glad you asked! There are a number of different, yet important, steps to take when transitioning one room into another. Let's tackle five different areas of customizing your spare bedroom into the type of walk-in closet that will make your dreams come true.
1. Colors
Needless to say, if you're wanting to craft a special room for storing your clothes, shoes, and other items, you'll want the room to look as appealing as possible. There's no rule that says a closet should be boring or all one color. That said, you may want to consider a color scheme that will better match the scheme of your bedroom. If you're aching for an adventure, however, feel free to see what looks best to you! If you're more interested in a modern contrast of white and beige, that's perfectly fine. If you want more style, then a mix of other colors will do nicely!
Related: 4 Areas to Consider When Remodeling Your Kitchen
2. Flooring
Next, you will want to consider what type of flooring you would like. Do you want a nice, cozy carpet to walk on while hunting for clothes? Maybe a nice, hardwood floor suits your fancy? Or what about a fine tile pattern? The nice thing about this decision is that you have plenty of options to choose from.
3. Racks and shelves
If you have all that extra space going into a walk-in closet, then you should absolutely take advantage of it by putting in some racks and shelves. You may have to decide which you'd like more of depending on your stash of shoes and clothes. If you're anything like me, one nice pair of tennis shoes is about all you'll need; but if you're like others, having a nice collection of shoes for different occasions is quite convenient and slightly more fashionable.
4. Mirrors
Adding mirrors to your walk-in closet really takes advantage of the extra space by giving you that much less of a walking distance to see how you look before you head out for the day. Rather than walking to the bathroom, why not take a look inside the very place you dress up anyway? While you're at it, consider adding mirrors behind you and around you to give that full view of how you'll appear to others at work, dinner, or while out with friends.
5. Closet doors
Sure, you'd like to make the inside of the closet look appealing, but don't forget about the doors too! You don't have to settle for a plain, old wooden door. Maybe you'd like to have French doors or a slide-open barn door or even a glass door. Nothing is off-limits from you having the kind of entrance that leads you into a walk-in closet you'll never forget!
Planning on creating the home of your dreams or maybe you should buy the home of your dreams all set to go with a great walk-in closet? Either way, there are benefits to both. Check out the newest homes for sale throughout Suburban Omaha. Woodland Homes are exploding across the county. Call us for more information or browse the listings below.