Ashlee O'Malley
Associate Broker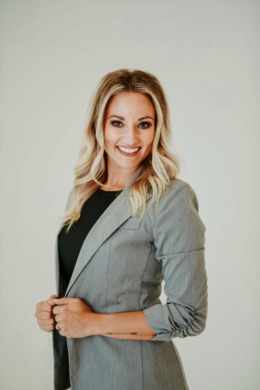 Born and raised in Omaha, I take pride in my market knowledge and familiarity of the entire city. Knowledge, Honesty, Integrity and Commitment are just a few of the things you will receive by working with me to fulfill your real estate buying, selling, or investing goals. 
As a Realtor, I understand that buying or selling a home is more than just a transaction: it's a life-changing experience. I recognize and value the trust my clients place in me and I strive every day to exceed their expectations. I take great pride in the relationships I build and will always work relentlessly on my client's behalf to help them achieve their real estate goals. Personalized service and client satisfaction is always my #1 goal.
Testimonials
My fiancé and I bought our first home with Ashlee. She was so amazing and answered any and all questions we had! Even after we closed, we could reach out to her with any questions or issues we had and she would respond within the hour to help. Ashlee is the most dedicated and thoughtful person we have ever met and I could not recommend her more!
Morgana and Lucas
Ashlee is extremely knowledgeable, attentive, available and will work extremely hard for her clients. She took very good care of our family and sold in our home in a couple of days. We definitely recommend her to our friends and family.
Ashley and Erik
Never in my life did I expect that the process of buying AND selling a house at the same time, in this crazy market, would not only be stress-free but also fun. Ashlee made sure that it was all of those things. She was, by far, the most responsive professional I have ever worked with. Not only did she make sure to dedicate her work day to our process, she also responded immediately when we inundated her with random questions at late hours and on weekends while she was trying to play Top-Golf! Never once did she make us feel like a nuisance or a bother, and she made sure every one of our questions were answered with clarity and in a way that makes sense to us non-realtor type. Plain and simple, after our experience with her, Ashlee feels more like a friend than just our realtor. 11/10 would recommend her to absolutely anyone.
Jeff and Niki
Ashlee helped me purchase my first home. She made the process easy and pain free. She was there every step of the way, answered or got an expert to answer all of my questions and helped through out the entire process.
Alex
After living in our home for 27 years, it was a blessing to meet Ashlee who seen all the love we put into our home and conveyed it onto any potential buyers. Ashlee always went above and beyond. For example, someone tracked onto the vinyl plank flooring during an open house - and there was Ashlee cleaning all the floors before leaving. Ashlee always offered her help whether it be packing, cleaning, or even stopping to pick up lunch if needed. She was always a phone call or text away and always quick to respond. If we ever were to sell or buy another house, Ashlee would always be our 1st choice in a realtor!
Patrick and Lill-Ann
More Testimonials